Written By: Debkumar Mitra
Kolkata, India
Photo: Abhishek Saha
She's Back!
The heroics of 2016 Rio Olympics are now a blur; the dangerous and difficult Produnova vault that she made famous in Indian kitchens has been erased from the collective consciousness of the entire nation but the indomitable spirit named Dipa Karmakar soldiers on. Many believe her performance has always been oh-so-near-yet-so-far variety yet gymnastics records tell a different story. The 24-year-old is not sitting on her laurels but preparing for one last hurrah at the 2020 Tokyo Olympic Games.
Throughout her career as a gymnast, Dipa has always been ploughing a lonely furrow. She started with a huge a handicap as an athlete in a sport that is not taken seriously in India with virtually no financial support and infrastructure. When she started in 2007, the Sports Authority of India (SAI) had a handful of facilities but those were beyond her. Hailing from a family with modest economic status and coming from Tripura, one of the poorest states of India, the Indian gymnastic star was dreaming the impossible when she started to train at a local makeshift facility. That she did not suffer from a major injury while performing her favourite gymnastic routine – the vault – is no short of a miracle.
In 1964 Indians – all men – took part in the Olympic gymnastics competition and after a yawning gap of 52 years, India returned to gymnastics arena at the Rio Olympics in the form of the diminutive Dipa. She had to go through a qualifying event to make through to the final. She was the first Indian woman gymnast at the Olympics a feat that was not lost on her. In an interview with a vernacular daily before the start of the Olympics in 2016, she said she was happy to be the first woman and hoped more girls would join the sport. Like Milkha Singh at the 1960 Rome Olympics, she missed the podium finish by a whisker but her performance and poise after the event did create a groundswell of support for gymnastics in general and for her in particular.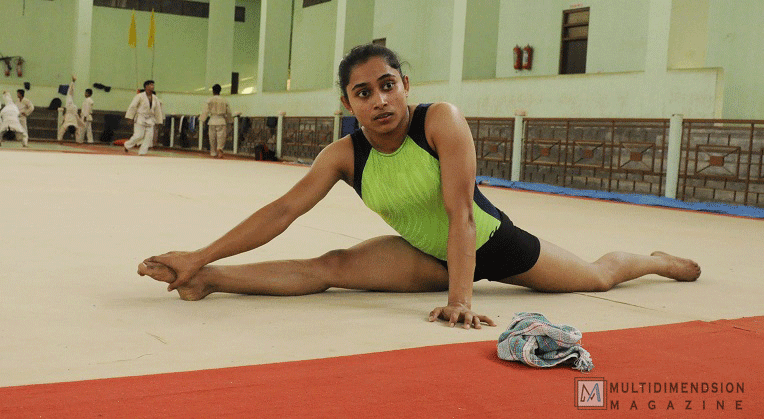 For a time being she became a toast among the Twitterati, a darling of the media and a champion who could be gifted an expensive car by none other than the champion cricketer Sachin Tendulkar. Sports fans in India cried when she missed the medal and soon enough became busy following the gods of cricket. For a time being nobody knew where she went till the news broke that she was injured. The media started speculating on the arrival of a new champion and some even wrote her career obituary. The speculation was rife that she could not perform the Produnova anymore and when a fighter lost her lethal weapon the battle was almost over, it was virtually curtains for the Indian gymnast.
Fans, be that of sports or cinema, across the globe are more voyeuristic than any other group. They love to hear off the sporting arena stories of their stars. The media obliges every time filling up the columns with speculation, rumours and sometimes even bordering on falsehood. Fortunately for Dipa, she was in a sport that hardly any following and thus such unwanted reporting did not affect her much. Unlike the women stars in badminton, tennis or even archery, Dipa with her top bracket performances was not under the constant media glare. This was a happy situation for her when she was nursing an injury after Rio. She went under the media radar for almost two years surfacing only in unsubstantiated speculative reports. Sheer determination to shut herself up from useless chatter helped her in slowly reaching a new peak in performance.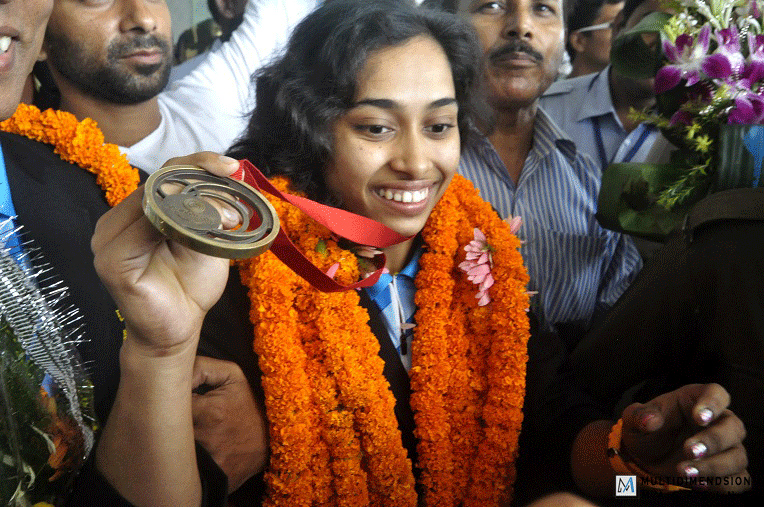 From a flat-footed child to what she is today could happen only because of her unwavering focus on her discipline. Her father, an SAI coach, introduced gymnastics to Dipa. It was not love at first sight. She was flat-footed and that is bad news for a gymnast and on top of that, she did not like the sport. Tripura state gymnastics coach Bishweshwar Nandi took her under his tutelage when she was barely 6 years old. Her real interest in the sport grew after she won the 2007 junior national championship at Guwahati in Assam. Dipa wanted to win and the Guwahati triumph put her gymnastics career in topflight.
To be recognized as a star in any sport other than cricket in India, a sportsperson needs international recognition. Be it P.T. Usha in athletics, Sania Mirza in tennis, or Saina Nehwal in badminton, recognition as champion in their home country came only after they tasted international success. In Dipa's case, her hour glory came when she clinched the bronze medal at the 2014 Glasgow Commonwealth Games and followed it up with bronze at the 2015 Asian Gymnastics Championship at Hiroshima.
Suddenly she found her place in the sun. Interviews, appearances on TV, live streaming of her performance and above all improved training facilities were all there; in some of her initial interviews, she appeared to be a little awkward but sincere, a quality that she retains till today. Even when champion-loving media decided to shun her from the sports pages as a has-been, in a handful of interviews she talked about her frustration with injury but never a whimper on throwing in the towel.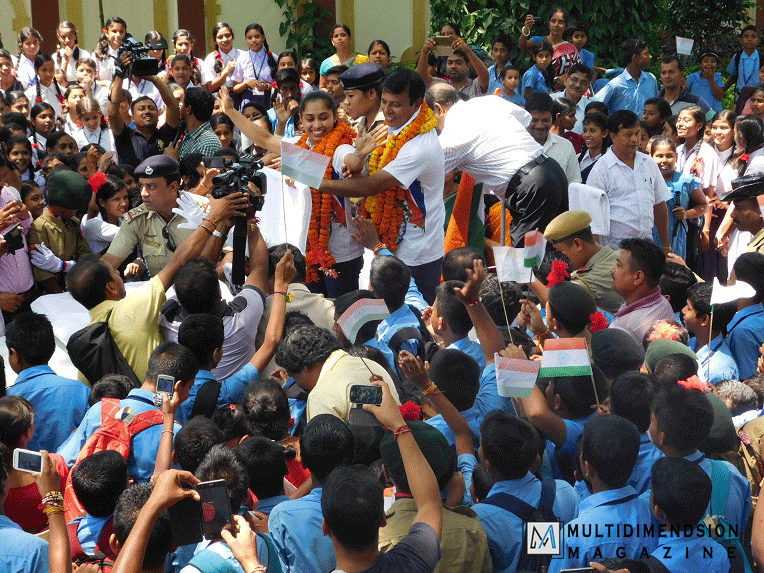 That indomitable spirit rose like a phoenix at the FIG Artistic Gymnastics World Challenge Cup in Mersin, Turkey, in July 2018 when the 24-year-old struck gold in vault. Dipa is back from the brink, a career-threatening knee injury was a bad dream. However, disaster struck soon enough and India's gymnastics medal hope at the Asian Games died with Dipa limping out at Hiroshima. The tongues started to wag again, this is surely the end of the vaulting girl but they underestimated the ammunition left in her.
In November 2018, in Cottbus, Germany, the girl from Tripura silenced her critics again by claiming the bronze in vault at the Artistic Gymnastics World Cup. Though there are quite a few qualifying events left to make it through to Tokyo 2020 but Dipa sounded optimistic. With her childhood coach standing beside her like a rock, Dipa is going up the climb again.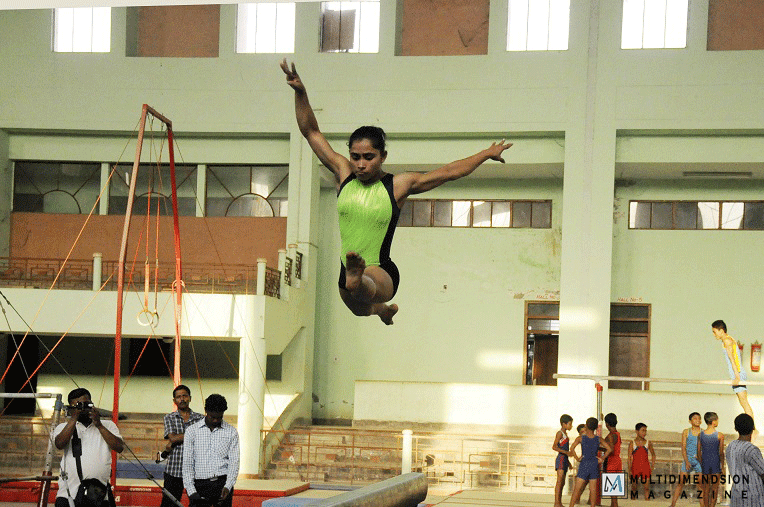 She needs all the help to achieve her dream; she thanks the support from GoSports Foundation and the Sports Ministry of India for her comeback and hopes to fulfil the dreams of the billion – an Olympic medal. It is not easy but nothing has been easy for India's finest gymnast!