Written By: Pema Bhadra
Guwahati, India
Photo Credit: Pema Bhadra
A lush green field. Gentle bridge mixed with drizzle. A river flowing in the backdrop washing the feet of the hills. Everything around is so fresh, so green…. Ideal place indeed for a weekend trip. In fact, setting up a resort here won't be a bad idea.
Now, the feel-good factors end up here. Yes, a big complex is being built right there with multiple-storied buildings. But it's not a resort, it's a prison. A prison biggest in its class. World's number two in status. The name we call it is 'Detention Centre'. Goalpara Detention Centre to be more specific. This is going to be the 'Home' for the stateless, nationless people of Assam. The 19.06 lakh plus people whose names did not appear in the NRC Final List (though Home Commissioner Ashutosh Agnihotri clarified that this final list of NRC cannot be called as Final NRC, as the Final NRC can only be published by Registrar General of India) are now waiting for the speaking orders (the certified copy mentioning the reason for being out of the list). Most of them will fight a legal battle to prove their citizenship probably for the last time and eventually, probably several lakhs of them finally would end up there in the detention centres like the one being built in Matia area of Goalpara District.
The irony is that many female daily wage earners working as construction labors at the site are themselves out of the NRC final list. Sarojini Hajong was carrying sand on her head and some rods in hand. One of the contractors of the raw materials, Mr. Chandan Kalita stopped her on my behalf and said, "Sir has some questions for you." Reluctant and agitated Sarojini asked, "Will this repeated questions and answers by well-dressed, big-city journalists bring us justice and peace of mind? Can you ensure that my name will be included in the list after this interview got published or aired? Otherwise why am I being harassed and disturbed in the name of interviews, quotations, tv bites and what not?"
There are many more Sarojinis, Namitas, Sefalis, Prabhatis working day and night to complete the prison which would eventually be their nests. Sarojini said, "We make jokes among us on this. We are choosing our favorite sides, cells etc. The big kitchen cum dining hall is almost complete. Even we discuss the menus of the future when we would be imprisoned here only. But come it may, this Rs.250 per day wage is a big thing for us. although the male workers are paid Rs. 300 per day."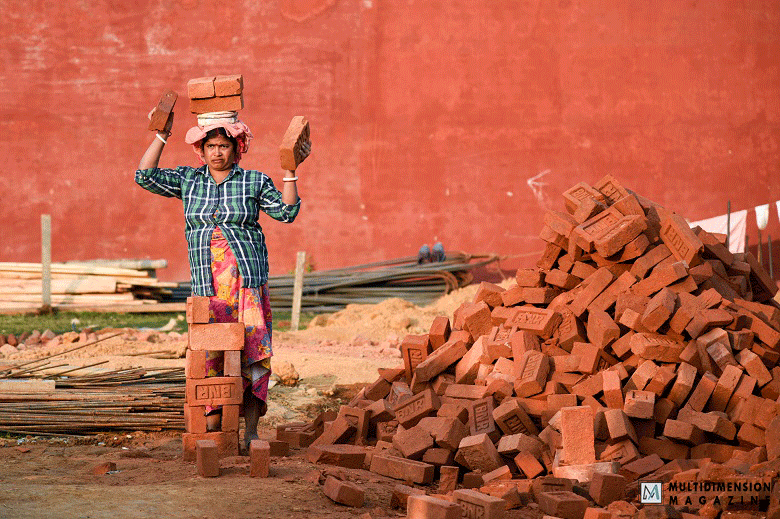 Several others like Ajanta Hajong, Saraswati Hajong, Mamata Hajong and Pratima Biswas of the villages are in fear that they would end up being "jailed" at the facility that they have been constructing.
The day construction work of this Detention Center started,Mamta Hajong and her husband Amit came up with their tea-stall just in front of it. And the business idea just clicked. Amit was saying, "That was in November 2018, some strangers arrived at the site, cleared the jungle and cabbage field. One day, I saw a group of laborers reaching the site with CGI sheets, bamboos and other construction materials. I thought the industry was coming up. I decided to open this shop." The flow of laborers, officers, reporters kept on increasing and the tea-stall is now a medium-size rice hotel. But unfortunately, on 31st August NRC Final list was released keeping his wife Mamata Hajong out of it. Though Amit and his children, and his parents are all included in the list.
A local govt official informed that in 1964 Hajongs, Bengalis, Dalus, Garos, Koch-Rajbanshi people living in undivided Rangpur-Goalpara crossed the border and India Govt gave them shelter and refugee certificates. Refugee camps were set up in and around Matia-Dolgoma area. Those camps eventually became villages but interestingly they are still being addressed with numbers. Those nine refugee settlements now have a population of around 20,000. Most of the male members made it to the list but female members are left out for unknown reasons, and till date those reasons are unexplained to them. In most families, one or two members missed the NRC bus. Sarojini's grudge is justified, "I was called twice by NRC authorities. Following re-verification, they said there were some clerical errors in my documents but they asked me not to worry, and now I am out of the final list also. If you are going to put us in jails finally, then why had you given us shelters before?"
Ajanta Hajong, met with a similar fate. "I was born in this village. How can I be a Bangladeshi? If I am dumped here, who will look after my two daughters and only son?" She asked.
Robindra Das, the supervising engineer of Assam Police Housing Corporation informed that the country's first stand-alone foreigner detention centre will house 3000 inmates in 15 blocks. There will be a huge kitchen cum dining hall, an auditorium, 15 separate toilet-blocks, a three-storied hospital and a primary school in the campus itself. The sanctioned cost of the project is Rs. 46 crores. Rabindra informed us that daily rainfall, bad roads hampered the progress and the detention centres which were to be commissioned in August, can only be ready in December.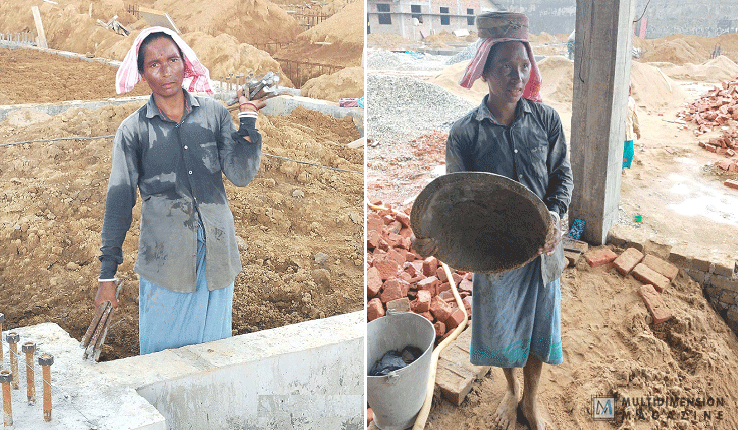 Presently there are over 1000 doubtful voters and declared foreigners lodged in six detention centres of the state which are extensions of district jails of Goalpara, Dibrugarh, Jorhat, Silchar, Kokrajhar and Tezpur. Former IAS officer-turned-human rights activist, Harsh Mander lodged a case in Supreme Court against the inhumane treatment with the inmates of detention camps and protesting the faulty system of imprisoning a person for an indefinite period in suspicion of being a foreigner. After a series of hearings, SC accepted Assam Govt's proposal to release inmates who spent three years or more in jail on conditional bail. The conditions are payment of two sureties of 1 lakh INR each, submission of a verifiable address, and biometrics (iris scan and all 10 fingerprints). They also have to report to the concerned police station once a week.
But the story of Matia has a twist also. Thanks to this detention camp, hitherto little known Matia, almost 130 kilometers from Guwahati, has suddenly become famous. The locals are seeing the foreigners (foreign journalists who had visited the detention camp following the publication of final list on August 31)for the first time. 'Babu's revisiting almost every day in SUVs. A section of the locals welcomed the camp saying it would pave the way to more hotels and commercial establishments and would ensure job opportunities for the locals soon. Many are also looking forward to setting up shops, as markets will come up in the area very soon. But some seniors of the village opined that detention camps must be set up far away from human habitation.
In the meantime, the centre has increased the time limit for filing appeals in Foreigners' Tribunal from 60 to 120 days. As per the new amendments, each person excluded from the list will have a maximum of 120 days from the issue of speaking orders to challenge his or her exclusion and the foreigners' tribunal will give their verdict within 120 days. But Sarojini is the only earning member of the family of 5 since her husband is mentally challenged. She has no idea of complex legalities of Foreigners' Tribunals or Supreme Court directed Standard Operating Procedures of NRC office. What she knows is that she just cannot afford to take leave and visit Foreigners' Tribunals to prove her citizenship because each day will cost her 250 INR.
Read more:
NRC, Citizenship Amendment Bill: Where did it start?