Written By: Pema Bhadra
Guwahati, India
Photo Credit: Pema Bhadra
Case 1
One Mr Narayan, age 60 plus, charred to death while sleeping inside a hotel owned by a Bengali. The hotel, with 5 other shops were set on fire by the so-called anti-CAA agitators in Tinsukia District, Assam.
By the way, his death did not find any space in the local newspapers, news channels.
Case 2
An oil tanker heading to Numaligarh Refinery set on fire by six youths on three bikes. The driver of the Tanker Abdul Ali died inside the cabin. Helper Moslemuddin is fighting for his life in a Guwahati hospital.
The incident was reported in just one newspaper. But the news channels showed no interest.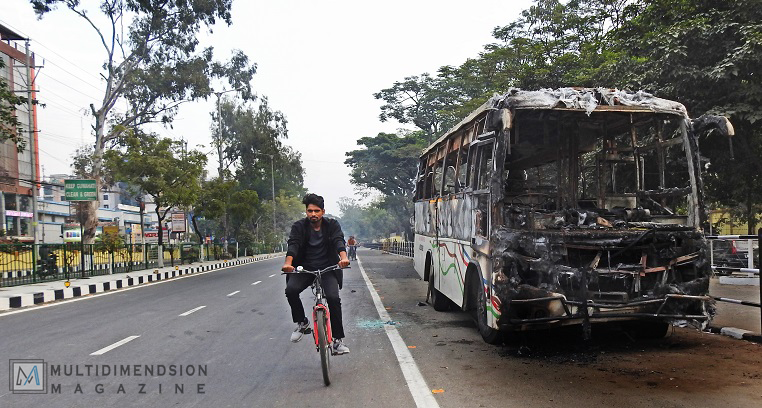 Case 3
Sam Staford, a student of class IX, resident of Hathigaon, Guwahati was the son of a drummer. The 17-year-old was himself a drummer too and was a fan of singer Zubeen Garg. He went to Latasil ground walking more than 10 kilometres, to see Zubeen and other singers, celebrities who had given a call to all Guwahatians to defy bandh and join the mass protest at Latasil ground against Citizenship Amendment act (CAA). While coming back home, again crossing 10 kilometres on foot, he got trapped in police-public fighting and gave a call to mother. He said, "Mom I am almost home. Police are firing near Rajdhani Masjid area. You better be inside and cook Pulao and Mutton for me. I am very hungry."
After 10 minutes, Sam's mother got a call again but this time she was informed that Sam was shot and lying in a pool of blood. He was spot-dead. A bullet pierced his throat.
Later AASU announced him as a state martyr.
Case 4
Deepanjal Das was a worker at Sainik Canteen, Rajgarh, Guwahati. He went to Latasil protest and while coming back, he was shot by a bullet at his abdomen. His mother had repeatedly told him not to join protests and better keep himself safe but the 17-year-old son argued, when motherland is calling you for a cause, it's your responsibility to answer.
AASU announced him as a state Martyr too
Case 5
Abdul Alim got married just three months ago. The workers of 'Fashion at Big Bazar' was on the street at Rukmini Gaon on a Thursday evening. Abdul joined the protest rally with his friends. When things got wrong and police started firing, they started walking back to their place. Suddenly a bullet hit Abdul from the back. He told friends that he was shot. But friends could not believe that. Later they found the bullet hole at his back. He died in the hospital on Sunday.
The Anti-CAA protest in Asam took 7 lives till date and left almost 50 injured. Among them, 30 got bullet injuries. The loss for the property is unaccountable. Loss of face was worse. As Japan cancelled the trip of its Premiere to Guwahati for the annual meeting with Indian Prime Minister, that is scheduled to be held on 15 and 16th December. The newly pitched roads, newly coloured walls, decorated dividers all are in shambles now. The city has been in Carfiew till 11th and internet service was suspended as well. For over a week citizens were cashless, communication-less, fuel-less, recharge-less….
What Is CAA
The existing citizenship act says if anyone from other countries comes to India and has been living here for 11 years or more, he can be awarded citizenship. But the amendment act says if any Hindu, Buddhist, Jaina, Sikh, Christian has been forced to come to India for religious persecution in neighbouring Islamic countries like Pakistan, Bangladesh or Afganistan, and has been living in India for more then 5 years, he can be granted citizenship. Assam is opposing to is as it directly contradicts the Assam Accord, signed in 1985, which says Assam will not take any more burden of foreigners i.e. Bangladeshi refugees after 24th March 1975.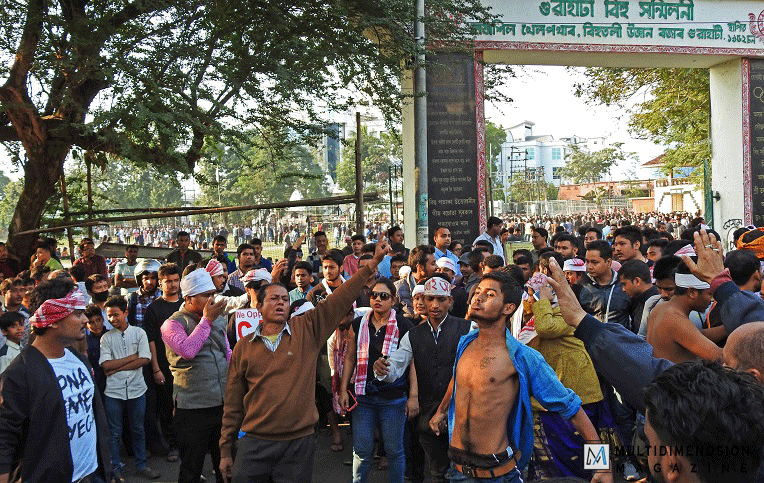 The Impact
Cons:
According to the view of All Assam Students' Union (AASU), this amendment will add millions of OUTSIDERS to Assam and the indigenous population will soon become a minority in their motherland. They are rather emphasizing to implement Clause 6 of Assam Accord which will help the indigenous people of Assam to preserve their political, economic, linguistic, constitutional and social dominance in the state. A high-power committee was formed by the government to give suggestions on the implementation of Clause 6 of the Assam Accord. Samujjal Bhattacharya, the chief advisor of AASU, pointed out that the Government of India had agreed to provide constitutional safeguard to the indigenous people of Assam through Clause 6 of the Accord because Assam had to take the burden of the foreigners who came to the State during the period from 1951 to 1971. But now Centre is trying to impose CAA overtaking Clause 6 of the Accord knowingly that this amendment violates Clause 5 of the Accord, which is not acceptable.
Pros:
The Citizenship (Amendment) Act or CAA, if implemented, will help the indigenous people of Assam preserve their political, economic and social dominance in the state, argued the Health and Finance Minister, spokesperson of Assam Govt., Himanta Biswa Sarma, who is also the Chairman of BJP led North East Democratic Alliance or NEDA.
Sarma said, if the CAA is not implemented, then the changing demographic pattern in Assam will allow Muslim migrants from Bangladesh to gain ultimate political power. According to him, Hindu indigenous leaders have no power in lower Assam, central Assam and Barak Valley due to these changes in demography and without CAA another 17 seats will go to the party of Bangladeshi Muslims. When AASU, KMSS and others are claiming that CAA will impose more than 2 million Bangladeshis on Assam, Himanta says only five hundred thousand Hindu Bangladeshis will get citizenship under the CAA according to the present NRC list and if a new NRC is prepared the numbers might come down to four hundred thousand.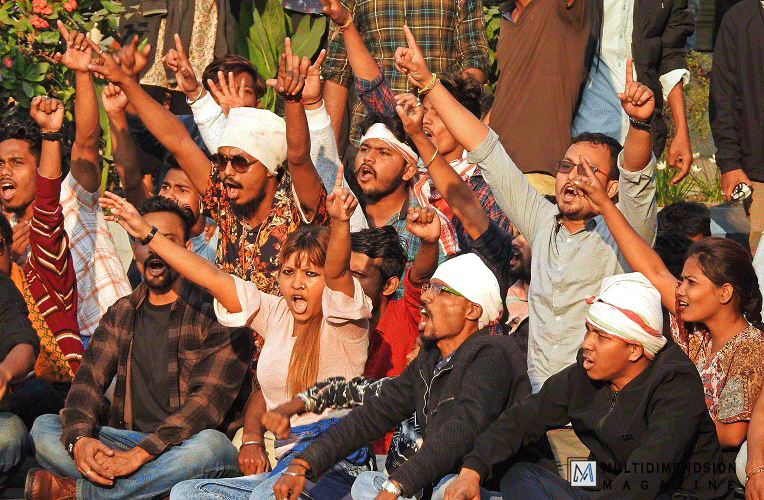 He said parties like Congress and AIUDF are not opposing the CAA for the sake of the Assamese people but their single point agenda is to make Muslims also eligible for citizenship. But it is hard to believe and even harder to establish how a Muslim can be persecuted or tortured in an Islamic country. He alleged while many political parties and NGOs are opposing the CAA, nobody raised a voice when ten million people got Indian citizenship after 1971 was considered as the cut-off year in Assam Accord, and 5.4 million foreigners were regularized by the NRC. As per Sarma's calculation, only 7,19,200 'Bangladeshi Muslims' were excluded from the final NRC.
"Bangladeshi Muslims are economic immigrants. They infiltrate in a well-planned manner and so they have all the documents. Hindus, on the other hand, are forced to flee due to persecution and have to flee in a hurry. There is a difference between economic migrants and those who flee on account of religious persecution," said Sarma.
The Protest
As soon as CAB (Citizenship Amendment Bill) was placed in Lok Sabha, AASU and 30 organizations representing different ethnic groups of the State and the joint platform of cinema, theatre actors, workers, singers, dancers, artists launched massive state-wide movement and it got intensified after the bill was passed in both the houses.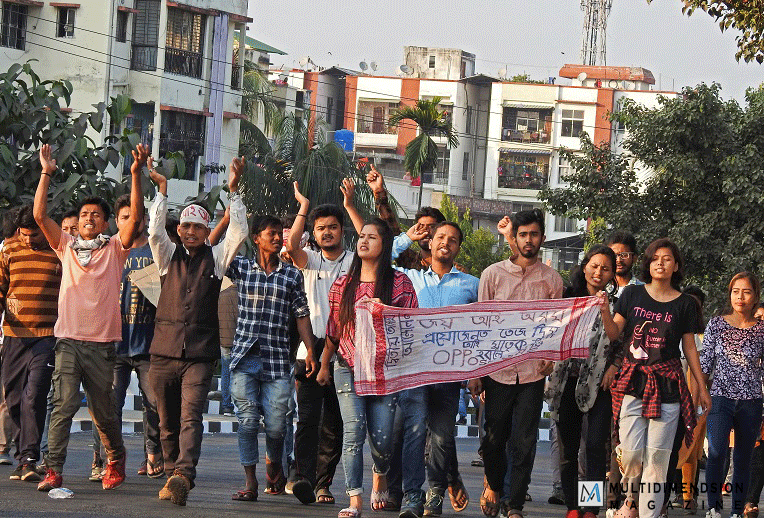 On 11th December, after sunset, streets of Guwahati and other districts of Assam witnessed massive violence and vandalism. Unruly and so-called protestors set the plastic road dividers on fire, and also the dais and platforms meant to welcome Modi and Abe (prime minister of Japan), the hoardings etc. The National Highways were blocked. The protesters stopped the cars of grooms and some marriages had to be cancelled. State Govt imposed a curfew and asked for military help. The next day, the army was on the move and curfew was in force to stop mobilization of protestors. Surprisingly, thousands of protestors walked down 10 to 20 kilometres and reached Latasil Play Ground, where AASU had organized the protest rally against Citizenship (Amendment) Act or CAA. Police charged them with lathis (sticks), used tear gas, even though the Latasil protest was democratic and non-violent. But as the mob dispersed and people started walking back to their places, violence, stone pelting started. Police used lathi, then tear gas, rubber bullets, blank firing and eventually firing started that resulted in killing 4 people in Guwahati streets. Since then, the Internet was banned in Guwahati and other districts. Curfew had been lifted in Guwahati but night curfew was still on in Tinsukia and Dibrugarh, where the Bengali areas were being attacked sporadically. Unidentified miscreants were setting Bengali houses and shops on fire.
Satyagrah
After the initial violence and unrest, AASU, Intellectuals and Artist Forum as well the Joint Platform of students from different colleges and universities, successfully continuing their democratic and non-violent protests for the last few days. AASU organized Satyagrah at Latasil on 16, 17, 18th December. Artist Forum organized cultural protests on 15th and 19th December. The leaders categorically said, none from them were involved in the arson and violence and asked everyone to protest in a democratic and non-violent way. They suspended any type of protest/rally after sunset. ULFA-I leader Paresh Baruah supported the movement but criticized the violence. He also doubted that some external force was involved in the arson. AASU and Artist Forum also suspected the same.
Satyagrah and Fasting protest of AASU, AJYCP, Artists, Intellectuals and other organizations is on in several districts.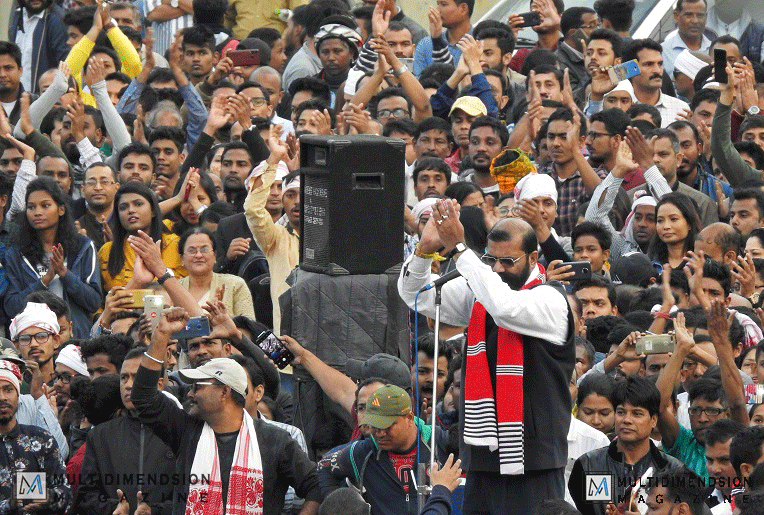 Investigation
Govt spokesperson Himanta Biswa Sarma in a press meet has shown some video footage and screenshots and claimed that there was a definite, well-planned move to burn down Assam Secretariat (Janata Bhawan) on 12th December. He, quoting some FB posts of young Congress leaders and workers, said that a section of leaders mobilized people only to attack the Janata Bhawan. They had no plan or intention to join the main protest at Latasil but the single point agenda of this section was to set Janata Bhawan on fire. And who are these people?
Minister named youth congress president Kamrul Islam, one youth congress female leader from Nagaon and members of Popular Front of India or PFI (an Islamic students organization). DGP Bhaskarjyoti Mahanta, ADG (Law and Order) GP Singh both informed that the case was handed over to NIA. And NIA's first arrest was Akhil Gogoi, an RTI activist and founder of Krishak Mukti Sangram Samity (KMSS). KMSS is spearheading the protest against CAA since its origin. NIA slapped charges of Sedition and booked him under newly amended Unlawful Act Prevention Act (IPC 124A, 120B, 153A, 153B etc.). In the FIR, NIA claimed that Akhil is an active overground Maoist who joined RCC in 2009 and was actively involved with CPI (Maoist) leader. Next arrest in this case by police was state president of PFI, Aminul Haque. Himanta informed that a special investigation team was also set up under the leadership of DIG Mridulananda Sarma to investigate the conspiracy theory.
APCC and KMSS vehemently opposed the claims of Himanta. Congress said the theory that Maoist, PFI and Congress joining hand to burn down Secretariat is base-less, silly and the intention of Himanta was only to guard the failure of state machinery, govt and himself. Youth Congress president Kamrul said, "Even legal advisor to CM, Mr Santany Bharali was also present at the site. I, not only as a congressman but also as a die-hard Assamese joined the protest. That does not mean I was involved in arson or violence. APCC believes that the violence was planned, instigated and implemented by RSS itself and they are demanding an independent judicial inquiry headed by a sitting Supreme Court Judge. All non-BJP parties are claiming that BJP is trying to give communal colour to the anti-CAA protest."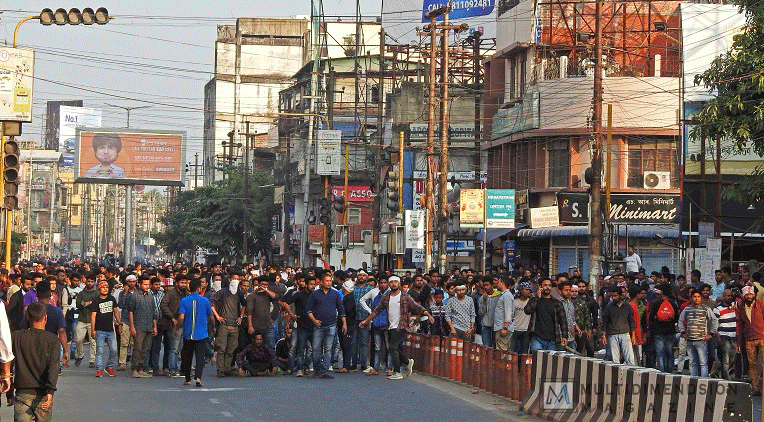 In the meantime, taking suo-motu cognizance of media reports, the State Human Rights Commission directed the state government to constitute a high-level probe into the incident of death and injuries during the ongoing protest across the state. The student bodies and APCC also lodged complaints in AHRC demanding impartial probes.
Though Himanta said, there was no decision on compensation for those who died in the police firing, congress announced Rs 50,000 for each family. Soon after that on Thursday the delegation of BJP MPs, MLA, Ministers visited the house of Ishwar Nayak at Odalguri who was killed in firing and announced a compensation of three hundred thousand rupees.
Meanwhile, chief minister Sarbananda Sonowal announced a one-time financial grant for 2000 artist of Rs 50,000 and 55,000 jobs within 6 months. AASU and Artist Forum strongly criticized this move by state govt and said, bribing with money or job can not keep students and artist away from the ongoing protests.
Even Doctors' Association, Lawyers' Association, Hindi speaking groups like Bhojpuri, Marwari, Hindustani Sammelan etc also joined the anti CAA protest. All Assam Govt Employees' Union also backed the protest and observed no workday on 18th December.
The Assam Gana Parishad, the coalition partner of BJP faced strong resentments in and outside party for supporting CAB and CAA. The party president and minister Atul Bora with two other ministers and other party members met Home Minister last night and demanded to keep Assam out of CAA and to bring Assam under ILP ambit.
CAA and Bengalis
In Bengali dominated Barak Vally the scenario is different. They welcomed the passing of the bill with fireworks and festivities. But there the division was very prominent between Bengali speaking Hindus and Muslims. But in Bramhaputra Vally the division, segmentation, identification is not that clear as Bangladeshi Muslims do not like to be called or branded as Bengali Speaking, rather they talk in a mixed Assamese dialect in their home also. Most of the Hindu Bengali organizations supported CAA. But keeping all sixth scheduled areas out of the purview of this Act was then made sceptical as a huge number of Bengali settlers were settled in Bodoland areas, Karbi Anglong, Dima Hasao.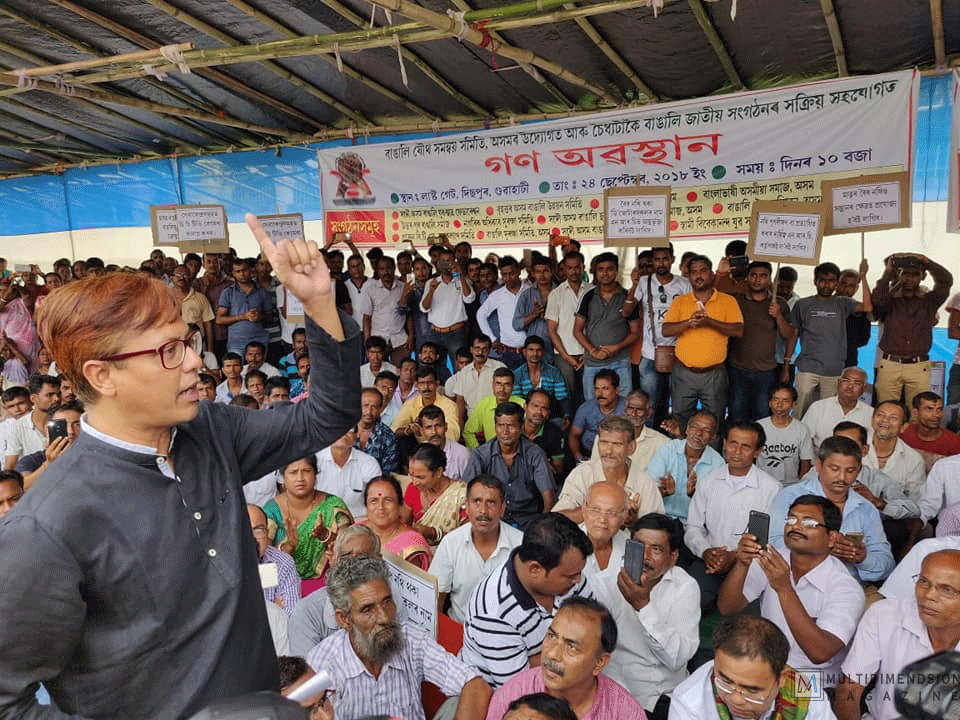 Besides, Meghalaya assembly on 19th December passed a unanimous resolution to include Meghalaya in Bengal Frontier Regulation 1873 act and to implement an inner-line permit system in Meghalaya. So a large number of old Bengali families living in Meghalaya for decades is in a panicked situation now. Uncertainty prevails everywhere. So a section of Bengali organizations now took streets to protest against the CAA which is supposedly meant to protect the Bengalis but did the opposite. Congress spokesperson Abhijit Mazumder, who is also a Bengali, was vehemently opposing the CAA. According to him, the act is nothing but a political trap and a lollypop that BJP is offering to Bengalis. It will serve no good to the Bengali community living in Assam for decades rather this movement escalated the anti-Bengali feeling among the ethnic population. Abhijit says, after implementation of Clause 6, Bengalis anyhow will become second class citizens in Assam with very limited rights. On one hand, BJP is doing that and on the other, to secure their vote bank in West Bengal they are playing this CAA card in Assam and making the situation worst for Bengalis. According to Rajya Sabha MP Ripun Bora and Lok Sabha MP and head of AIUDF Badruddin Azmal asks, how can a person, to get citizenship under CAA, claim himself a refugee, an infiltrator from Bangladesh when that very person already applied for NRC claiming himself an Indian and submitted testimonials in support of that? Many Bengalis who are born here and whose families are inhabitants of Assam since decades were left out of NRC list. Name of S Mazumder, a businessman from Jorhat is not in NRC list. He asks, "To get the citizenship in my birthplace why should I claim myself a refugee who was persecuted in Bangladesh and somehow managed to cross the border to take shelter in Assam?"
Chief Minister's Appeal
After 9 days, state govt restored mobile internet service on 20th December in the state after Guwahati High Court ordered Chief Secretary the same. And after a long gap, CM Sarbananda Sonowal met the press and said, land rights, constitutional rights of the Assamese people would never be compromised and Assamese will remain the state language. He confirmed that the number of applicants under CAA will be negligible and the list will be published after the application cut-off time is over. The entire process will be transparent and there will be absolutely no effect on Assam's demographic set up. Sonowal informed that the Chief Secretary is sending an invitation to protesting groups to discuss the matter in details and to let everybody know the facts. According to him, those who are spreading wrong information, playing divisive politics, quoting a wrong number of so-called Bangladeshis are the main culprit and they will soon be booked by the SIT. But adding confusion to the NRC left out Bengalis, today Sonowal again affirmed that those who were religiously persecuted in neighbouring countries can only apply for citizenship under CAA.