Written By: Pema Bhadra
Guwahati, India
Photo Credit: Shutterstock.com, Pema Bhadra
They were the first to export Assam's Eri and Muga silk. Late Radhakrishna Saraswati formed an SHG four generations back near Rangiya, Kamrup District. The special saree for the goddess Kamakhya used to be made by his exceptionally talented weavers and the saree was called 'Saraswati saree'. The present generation of Saraswati family owns a couple of multistoried buildings and runs an Ayurvedic shop at Panbazar in Guwahati. Rai Bahadur (a title given to influential persons, aristocrats by British Raj) Kali Charan Sen was one of the founders of Kamrup Academy School, KamrupAnusandhan Samity, SanatanDharmasabha, Paltan Bazar Bengali School etc.
Fakruddin Ali Ahmed was the fifth president of India. His father, Col. Zalnur Ali Ahmed, was the first indigenous person from Assam as well as Northeast India to have an M.D. degree. His mother Sahibzadi Ruqaiyya Sultan was the daughter of the Nawab of Loharu. Fakruddin's grandfather, Khaliluddin Ali Ahmed, was from Kacharighat near Golaghat, Assam, and hailed from a well-known indigenous Assamese Muslim family.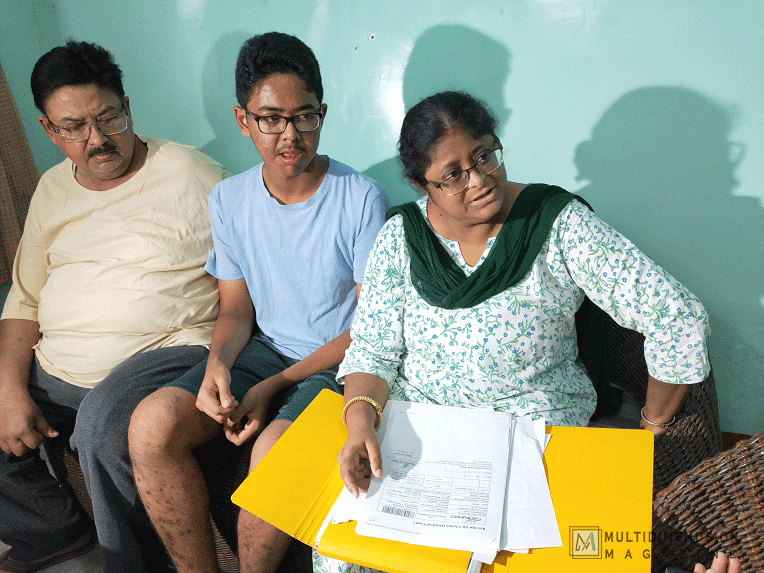 Dolon Senguptas name not in NRC though Her Husband and son made it to the list (Rai Bahadur Kalicharan Sen family-4th Gen
Retired Army JawanDalbahadurLohar, a resident of Silapathar, is a second-generation Army man. Lohar's father Lt. Set Bahadur served the British Army but finally revolted against them and got terminated. Later after independence, he rejoined the Indian Army and fought in China War. 13 members of Dalbahadur's family either served or presently serving in the Army. In 1972 Sachindra Nath Bhattacharjee of Sarupathar in Golaghat was awarded copper memento by former Prime Minister Indira Gandhi and in 1997 former Chief Minister Prafulla Kumar Mahanta also arranged for a pension scheme for the freedom fighter's family. Identity card for identification of the freedom fighter's family was also provided during the 72nd Independence Day celebration at Sarupathar in Golaghat district. Late Bhattacharjee's son Sameer Bhattacharjee is a retired School Teacher. Ananta Kumar Malo is the sitting South Abhayapuri MLA of the opposition All India United Democratic Front (AIUDF), whereas Ataur Rahman Majharbhuyan was the former AIUDF MLA from Katigorah. Freedom fighter Chabilal Upadhyaya was the first president of the Assam Pradesh Congress Committee. He was a second-generation Nepali born in Assam.
Examples are endless. Nothing is common in them except, all are eminent persons or well-known families or had done something in some capacity for the nation. But the biggest and most important as well disturbing similarity between them is, they or their closest ones had just become 'NATIONLESS' on 31st August 2019. Courtesy, NRC, Assam, 2019.
After four years of debates, verification, claims, objections, hearings in Supreme Court, protests, uncertainties, bandhs, suicides, and whatnot, finally, Assam got its updated National Register of Citizens (NRC) which is now arguably the most debatable and burning topic of India.
What is NRC?
This is the register containing the names of Indian citizens. The only time that a National Register of Citizens (NRC) was made, was in 1951 when after the conduct of the Census of 1951, the NRC recorded the particulars of all the persons enumerated during that Census. That time the total population of Assam was 90,43,707, with a Hindu population of 58,94,733 (65.20%), Muslim population of 19,96,456 (22.10%), Christian population of 5,85,399 (6.5%). That NRC is now being updated to include the names of those persons (or their descendants) who appear in the NRC, 1951, or any of the Electoral Rolls up to the midnight of 24th March 1971 or in any one of the other admissible documents issued up to midnight of 24th March, 1971, which would prove their presence in Assam or any part of India on or before 24th March 1971.
To include names in the present NRC people must have a Legacy Data. All the names appearing in the NRC, 1951, or any of the Electoral Rolls up to the midnight of 24th March 1971 together are called Legacy Data. Thus, there will be two requirements for inclusion in updated NRC –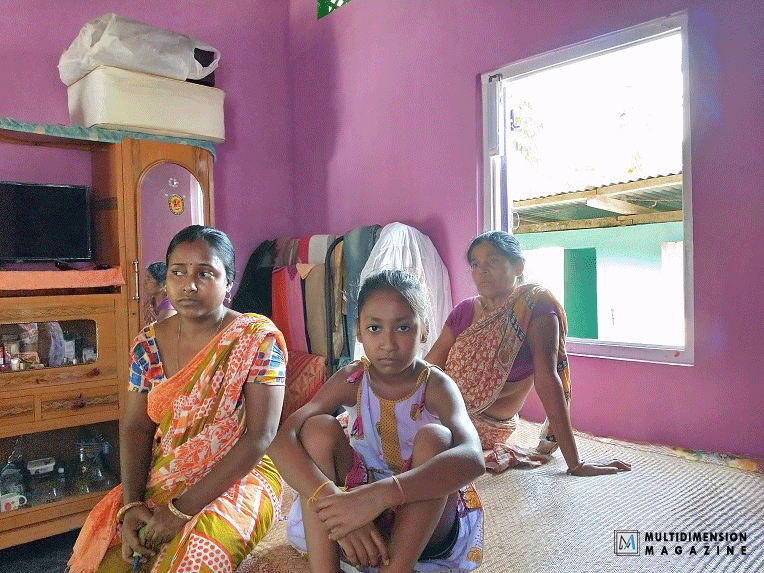 Due to missmatch in Name on Voter Card Subrata Dey of Krishnai was served D-Voter notice and was arrested last year. He died of heart attack inside Jail. Names of his wife, son and mother not in NRC
1.)existence of a person's name in the pre-1971 period
2.) Proof of connection with that person.
For getting their names included in the updated NRC, citizens had to submit Applications Forms (family-wise) till 31 August 2015. After verification of particulars submitted by the citizens, a draft NRC was published on 31 December 2017 and the final draft was published on 30 July 2018, and 40,43,984 names out of 3,30,27,661 applications were not included in the final draft for various reasons. Thereafter, claims were received from 36,26,630 numbers of persons against exclusions. Verification was also carried out of persons included in draft NRC. Objections were received against the inclusion of 1,87,633 persons whose names had appeared in the complete draft. Another additional draft exclusion list was published on 26th June 2019 wherein 1,02,462 persons were excluded. Taking into account all the persons already included and after disposal of all claims and objections and proceedings, it has been found that a total of 3,11,21,004 numbers of persons are found eligible for inclusion in Final NRC leaving out 19,06,657 numbers of persons including 4,17,354 names who did not submit claims.
As per MHA of GOI's notification, those persons excluded from the final NRC will be given 120 days to file an appeal before the Foreigners Tribunals (FT). And the FTs will pronounce their final verdict within 120 days of the filing of the appeal. The administration has set up 100 Foreigners Tribunals in Assam and the state government will set up another 200 in coming weeks. Assam government has recently appointed 221 Foreigners Tribunals members.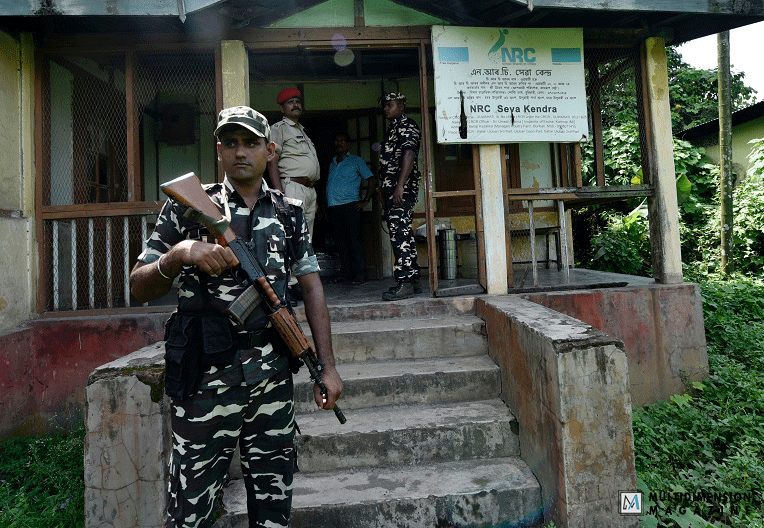 The Supreme Court, in the meantime, ordered that those illegal foreigners in Assam, who has completed more than three years in detention could probably be released only after providing biometric details in a secured database. A bench of Chief Justice Ranjan Gogoi and Justice Sanjiv Khanna also directed them to furnish a bond of Rs 1 lac (100000) with two Indian sureties and give details of the address of stay after release.
So as per lawyers, 'left-out' persons now have 4 months to appeal to FTs and another 4 months for the verdict. Then they have to go to the detention centre and they can come out if the High Court grant them bail. Even if bail is not granted, they can come out on conditional bail after spending three-plus years in the detention centre. Presently almost 300 detainees are waiting for their conditional bails in 6 detention centres.
Now, who are these 19 lacs plus population and why they could not make it to the final list?
The 4,17,354 persons who did not re-apply are straightway out and they perhaps cannot appeal to the FTs for the inclusion of their names. Out of the rest 14,89,303, more than one lac are Gorkhas. Name of the Gorkhas is out of the list mainly because thousands of Nepali families had been served with a 'Doubtful Voter' notice from Assam Police Border Branch. Last year after a series of memorandums from Gorkha organisations, The MHA issued a notification citing that the 1950 Indo-Nepal treaty, according to which "any member of the Gorkha community holding Nepalese nationality and who has arrived in India by land or air over the Nepal border even without a passport or visa and staying in India for any length of time" cannot be treated as an illegal migrant by Indian authorities and cannot be sent to Foreigners Tribunals. Thus, Nepali citizens are legal migrants, and the 1950 treaty probably is going to save them from being sent to a Foreigners Tribunal or the detention centres.
Ground reports from various political parties and other organizations suggest that there are almost 2 lacs of indigenous Assamese like Boras, Bordolois, Kalitas, Gohains etc. or original inhabitants like Bodos, Koch-Rajbongshis, Dimasas etc. in the left-out list. 31 organizations jointly demanded that names of original inhabitants must be included in the list without further hearings or FT cases. Now out of the 11 lacs left in the 'NATIONLESS' list, political parties and other organizations claim that 9 lacs plus are Hindu Bengalis (Bengali organizations claim the number is 11 lacs plus) and rest are Muslims and some thousands might be from other migrated tribes like Chakmas, Hajongs, Garos, Dalus, Kochs etc. who came to India between 1960-1971 and had been given land, shelter and refugee enrolment certificate- which was often rejected by NRC Seva Kendra officials as a primary admissible document.
For the left-out Hindus, BJP ruled central govt. is planning to bring an amendment to the current Citizenship Act. The proposed bill seeks to provide Indian citizenship to Hindus, Jains, Christians, Sikhs, Buddhists and Parsis from Bangladesh, Pakistan and Afghanistan after six years of residence in India even if they do not possess any document. The passage of the bill has triggered protests across the Northeast, particularly Assam, where people expressed fears of mass migration from Bangladesh. There were regular protest rallies in Manipur, Mizoram. Even the Mizo students were seen holding posters like, 'Hello China, Bye-bye India!' The Citizenship (Amendment) Bill was passed by the Lok Sabha on January 8 but was not tabled in Rajya Sabha, so got scrapped eventually. BJP is now planning to introduce the bill again shortly. But several organizations and political parties are vehemently opposing it. According to
them, the bill will nullify the provisions of the Assam Accord of 1985, which fixed March 24, 1971, as the cut-off date for deportation of illegal immigrants but the proposed bill will have a cut-off date of 31st December 2014.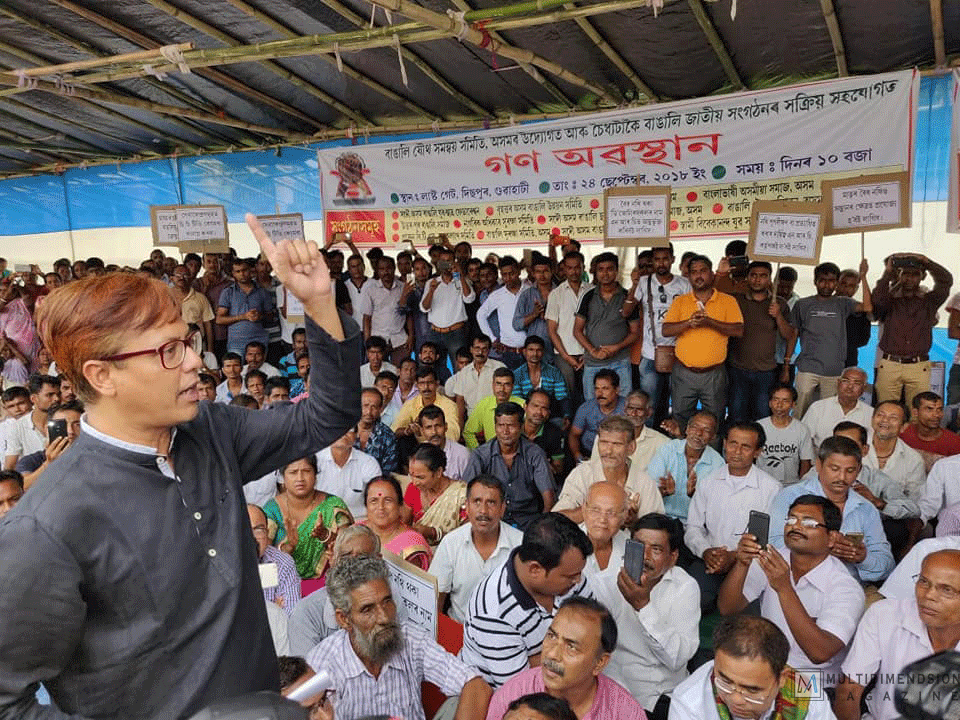 protest-of-Bengalis-against-NRC-process
In spite of all protests, BJP is adamant to pass the bill. They are blaming NRC coordinator Prateek Hajela for all the wrong things, mismatches, exclusion of names of legitimate citizens etc. They had secured 9 seats in Lok Sabha and 61 in Assembly Election banking on this Hindu Votes and to be more specific Votes from Hindu Bengalis made them enjoy the clean sweep. A section of Bengali Organisations says, BJP used Bengalis as Vote bank but never care for them and had done nothing to help the Bengali families during claims and verification process. Now, when everything is over, BJP is trying to wash their hands off blaming Hajela. Opposition Congress says, BJP knowingly did this. APCC spokesperson Abhijit Mazumdar opined that BJP wants this fear psychosis to continue among Bengali voters. Only then they can play the CAB card both in Assam as well in Bengal.
For the left-out Muslims, it is tough to prove who is 'original inhabitant' and who are 'Outsiders' based on Names or Surnames only. But many families have 1951- 1970 Legacy Data and in some families, some members are 'in' and some are 'out' even after using the same Legacy Data. So eventually those names of left-out family members will be included. CAB can be the constitutional safeguard for many Hindus. So as per the calculation of the ground workers of different parties and advocates, the final left out figure will be something around 6-7 lacs.
(To be continued…)
Detention Centres in Assam: The Current 'Home' for Nationeless People